Global Television
My current Netflix binge sessions have been heavily focused on the TV series 'Queer Eye, more than a makeover'. This show has had a lot of craze initially due to it being a remake of the original show 'Queer Eye for the Straight Guy', which was wildly popular in the early 2000s. It has become incredibly successful through several factors in its modern production, content and cast members.
Entertaining and Educational
In the first season of the new series 'Queer Eye, more than a makeover', the episodes were about the Fab Five assisting the lives of straight men. But the show has currently introduced females and many diverse members of the LGBTQI community.
For example, within the third season there is an episode titled 'Black Girl Magic' which shows the transformational journey of the first lesbian guest on the show. This diverse content had the show wildly trending and has created discussions on social media about love and acceptance towards young, black lesbians.
Also, having diverse members on the show would increase viewership due to more individuals around the world feeling they can relate to certain episodes. I believe showing these kinds of current affairs in a positive manner is what makes the show stand out amongst its Netflix competitors.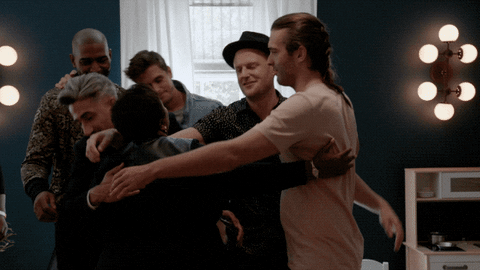 Positivity through Production
A part of the appeal of this show comes from the captivating production and upbeat music it presents. The positive output it displays makes viewers happy, maybe even inspired. Also, I believe by keeping the same structure of the original series from the early 2000s where five gay men help others, would bring viewership from past fans. Within Yarma Vargas's study (2010, p. 90) he explains that the original series had success due to combining multiple elements from reality television, makeover shows and strategies of product placement that is usually seen in gameshows. The new version of the show holds the same effective elements, but in a modern way. Having all five themes of cooking, culture, fashion, home décor and beauty that relates to the modern world helps attract viewers of all different interests to one platform of entertainment.
The Fab Five Themselves
Of course, the new show wouldn't be as successful as it is without the Fab Five. Antoni, Karamo, Bobby, Tan and Jonathon all express bubbly personalities that complement the positivity of the show. Their own personal motives to encourage self-worth and love to everyone is heavily shown throughout the whole series and is promoted on social media. To have a show demonstrate such acceptance has potential to create change throughout society; change towards discriminatory comments aimed towards the LBGTQI community. Michael Elasmar (2002, p. 38) expresses that television can have an impact in changing audience members values; "Learning and functionality evaluations of observed values leds to acceptance of those values" (2002, p.38). This kind exposure could be used as an educational tool to viewers of all ages. The show's positive attributes to society is what makes it so popular and has viewers excited for more content.
Reference List
Elasmar, M.G 2002, 'Socialization Effects of American Television on International Audiences', in M.G Elasmar (ed.), The Impact of International Television : A Paradigm Shift, Routledge, Abingdon, pp. 29-38.
Feder, T n.d., Queer Eye Fab Five Print – Hand Illustrated, image, Etsy, viewed 13 August 2019, < https://www.etsy.com/listing/601918384/queer-eye-fab-five-print-hand?ga_order=most_relevant&ga_search_type=all&ga_view_type=gallery&ga_search_query=queer%20eye&ref=sr_gallery-1-25&gt;.
Group Hug Mama Tammye Gif 2018, image, photographed by Netflix, Giphy, viewed 13 August 2019, <https://media.giphy.com/media/7zAB7cNuJR6xce0eSK/giphy.gif&gt;.
Vargas, Y.V 2010, A Queer Eye for Capitalism : The Commodification of Sexuality in American Television, Cambridge Scholars Publisher, Newcastle.